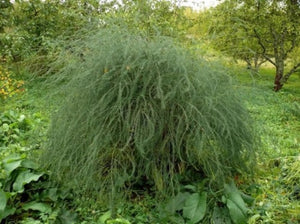 Heirloom 3 Year Asparagus Crowns Roots
Buy Heirloom Asparagus. Heirloom Asparagus  are know for there "flavor and exceptional taste". Hybrids have lost some of this fine quality over the years. A good healthy plant of any Asparagus variety is grown in a sandy loam soil that is fertile and drains well and a balanced pH.
Make your gardening experience a delight. Plant your Asparagus roots in Fabric Grow Bags. Click on this link and learn about the benefits of gardening with Fabric Garden Bags.
Buy 3 Year Heirloom Asparagus and capture that flavor that is missing. Easy to plant  Asparagus and fast to grow. Be sure to feed them Asparagus Garden Tea and they will produce an abundance of spears all season.
Plant Jumbo Garlic in between your Asparagus roots and control the pests. 
1. 4 Tablespoons in a gallon of water
2. Place in the sun for 3 hours and ready to use.