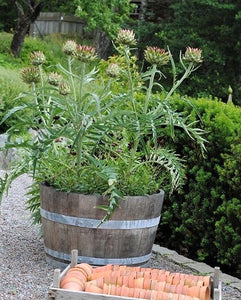 Grow Artichokes  In A Container - Buy Best - Grow Best !!
Artichoke plants are a gardeners delight.  They require very little care especially with planted in Fabric Grow Bags. Place the grow bag in morning sun and afternoon shade. 
Plant in soil that has moderate compose and sandy. The grow bag will allow air to circulate around the root and keep the Artichokes from becoming root bound. Also the garden grow bag allows for an even distribution of water. Make a showcase plant your Artichokes in Fabric Garden Grow bags and they will be a garden delight. Remember to feed your Artichoke plants about once a month with all natural Happy Meal Plant Tea Food.