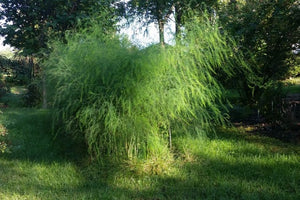 Jersey Supreme 3 Year Asparagus Roots For Sale.  Buy the best Jersey Supreme Crown variety online at Andy's Asparagus Acres?
Buy many Asparagus roots crowns as they will provide you with 15-20 years of great harvest. Jersey Supreme will solve the problem of satisfying everyone with their favorite spear size. Jersey Supreme are average size, sweet  and plentiful.
Stop!!  Don't Till That Soil !!        Plant Your Garden In Fabric Grow Bags:
Plant your Asparagus roots in Fabric Fabric Grow Bags allow for air pruning which controls  root bound. Also Fabric Grow Bags allow for better oxygen to water ratio, and better control of nutrients and soil pH. And a no pests solution for your Asparagus garden.                         Order Fabric Grow Bags Here.