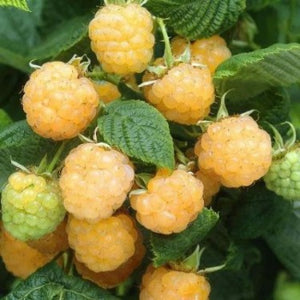 Yellow Raspberry Plants 2 Year 
Where to Buy Yellow Raspberry Plants for sale? Buy the best buy online. Let the Yellow Golden  Raspberry variety be the colorful fruit plant variety that sparkles in your garden. Plant Yellow Raspberries in your garden and use a Fabric Garden Grow Bag. Grow Bags are easy to use. The perforated fabric allows air to circulate the roots allowing better plant growth. Remember to feed your Raspberry Plants immediately after planting give Raspberry Tea Food and then about once a month.  The Raspberry Plant will reward you with an abundant harvest all season.
The "key" to growing Raspberry Plants is to feed they once a month. Sprinkle a small hand full of organic food around the plants.  Feed your Raspberry Plants Raspberry Plant Food and  grow healthy plants that will produce for you all season. Plant 

Garlic

 in between your Raspberry plants to keep out pests.