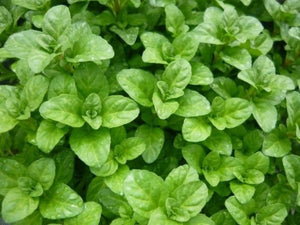 Pennyroyal Herb Plant
Where To Buy Pennyroyal Herb Plants? Buy many Pennyroyal Plants For Sale online . Pennyroyal is easy to  plant  especially when planted in  Fabric Grow Bag. Pennyroyal will be the showcase of your garden.
Pennyroyal is a herb plant that smells like Spearmint and will provide you with many benefits. For example,  Pennyroyal fights against  tired worn out physical weakness, therefore, Pennyroyal acts as a stimulant.  Furthermore, apply Pennyroyal to your skin and Pennyroyal herb plant will kill all germs. Another great benefit: Pennyroyal is an all purpose insect  repellant and used in venomous bites. And furthermore, Pennyroyal will make any area sweet smelling.
But most of all, Pennyroyal is known for its ability to keep mosquitoes off  of you and away from your porch and patio. Buy many Pennyroyal herb plants and experience the best results ever.  Feed your Pennyroyal Happy Meal Plant Food once a month and she will reward you with a  long flowering season.