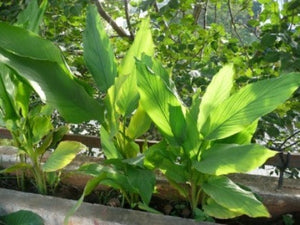 Where to buy Turmeric Tubers roots for sale near me. Buy many turmeric tubers and plant them in fabric grow bags and make your garden a showcase. Easy to plant but slow to sprout, once they do sprout they are fast to grow.
Turmeric likes well drained sandy loam soil full sun or partial. They make gorgeous flowers which makes gardening Turmeric a delight. The Turmeric plants will make many tubers in your garden soil. And the tubers are what is harvested and used as spice in cooking.
Remember to feed your Turmeric plants Happy Meal Tea and they will reward you with many tubers. Garlic is a good companion plant. Bugs and garden pests don't like the smell of  Garlic.