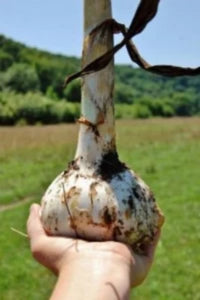 Where to buy the best Elephant Garlic variety near me. Buy Elephant Garlic and enjoy the harvest. Garlic is a member of the allium family and forms a bulb. The bulb is segmented and forms cloves. The individual cloves in a head of garlic are planted as seeds. The cloves turn into bulbs that grow underground and produce edible leaves and stems and flowers. The flavor is mild not as pungent of the Jumbo Garlic. Buy many and dry for when there is none. Stores very well for about 8 - 9 months. Grow your garlic in grow bags.  Remember to feed your garlic at least once a month: Happy Meal Plant Food.  And your Garlic will reward you with a grand harvest at the end of the season.
Each clove will produce one plant with a single bulb - which may in turn contain up to twenty cloves for Jumbo Garlic and 4 cloves for Elephant Garlic. Growing garlic is therefore self-sustaining. Self-sustaining meaning . . . it produces its own from season to season.
Why Plant Garlic? Plant either Elephant or Jumbo Garlic in between your Asparagus and Swiss Chard and Raspberry Plants. Garlic is the number 1# best solution to pest in your garden.