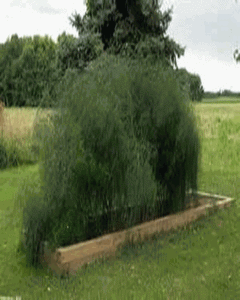 Jersey Supreme 2 Year Crowns - Root Buy Best
 Jersey Supreme Asparagus are a great investment for your garden. The Supreme will provide you with 15 - 20 years of great harvests Jersey Supreme Asparagus is  a hybrid that produces  an abundance of uniform-sized sweet spears.  There are many  varieties  of Asparagus to choose from. Choose a variety of Asparagus by the type of spears you like to eat. The "key" to growing Asparagus is the soil and pH. Garlic is a great deterrent to all garden  pests. Plant your garlic in between your Asparagus roots and crowns and all around your garden.
    How many Asparagus should I plant?
Jersey Supreme will solve the problem of 
satisfying
everyone with their favorite size spears. As Jersey Supreme are not thick nor thin but just right average size that will bring happiness to all. Plant your Asparagus directly to your 
garden
 .soil or plant fast and easy use
Fabric Grow Bags.