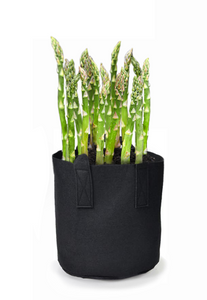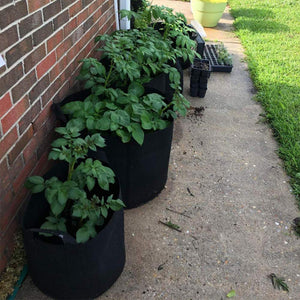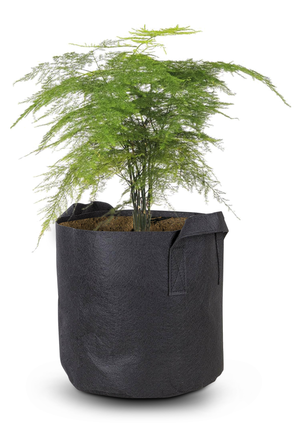 No Till Garden - Fast and Easy Planting - And No Weeds  
                                          Why Garden With Fabric Garden Grow Bags? 
Grow Bags Solve Many  Gardening Problems?
Garden Grow Bags allow for excellent air circulation through the walls of the grow bag. Therefore, bigger and stronger roots. Plastic containers restrict air and make plants root bound and root rot. 

Make A Garden Showcase!!
Fabric Grow Pots make an ideal garden showcase: plant Asparagus, Fruit Plants and Garden Veggies in Fabric Grow Pots and make your garden a showcase.
Garden Grow Bags are made of porous  material that will let the heat out clean air in and on rainy days will  let all that excess rain water out. The end result being  healthier plants all season. Remember to feed your plants - Happy Meal Plant Tea and they will reward you with a plentiful harvest all season

No more tilling up your soil to grow those Asparagus roots or fruits and vegetable plants. Plant in grow bags and enjoy fast and easy gardening all season. Garden Grow Bags are the answer to easy gardening. Do it today !!
---